Thought I would take a moment to introduce myself here. I've been lurking on this awesome forum for a bit now, and I just recently picked up a Brilliant Silver 1994 E420. I've wanted a W124 for quite a few years... I grew up riding around in my grandparents 1988 300E. I've got great memories of that car, and I had finally finished up enough of my other car projects to move on to something a little more interesting.
Up until now I've been a VW/Audi guy, and I have become pretty comfortable wrenching on my examples on my own. The most extensive work I have done has been on the 2000 Passat GLX 4motion I inherited from my Dad back in 2012. That has been quite the adventure. The car was never abused and was dealer serviced for its entire life, but 15+ years of use just adds up. I've worked my way through most of the powertrain issues those models have and have documented the journey
here
on PassatWorld. I'm pretty proud of what I have been able to accomplish with that car, but as I alluded to above, it's time to move on!
So... on to the E420. I found it down in the CA Bay Area. Its currently got 127k on the clock, and I am the 4th owner. I had been searching in the PNW for a bit, and was starting to become a little fatigued by the Craigslist run around. Most if not all the cars I would go see would be described as 'mint' in photos or over the phone, but were hardly in that condition when seen in person. Additionally... I'm not sure what the deal is with CL transactions, but I have rarely found that anyone posting there could be described as 'reliable'. Comes with the territory I guess!
So.. as the frustration grew, the search area became wider and wider. I happened upon a promising ad in the SF Bay Area... but the asking price almost prevented me from reaching out. On a lark, I sent an email, and received a reply almost immediately. It wasn't one of those hokey CL replies either... lots of detail and information about the car. We ended up connecting on the phone shortly thereafter. It turned out that the owner had had the car up for sale for quite awhile, and was running into a hard deadline to sell as he was being transferred out of the country. He had had a deal put together, only to have it fall through at the last moment when the prospective purchaser wanted to work out a monthly payment plan ... right.

Anyhoo... his situation meant he was flexible on price.
We set up a time to meet, I bought a one way ticket to CA, and that was that.
The car turned out being pretty impressive. Not perfect for sure, but it checked all the right boxes. The prev owner was quite meticulous about the maintenance he performed. Everything from fuel pumps, to wheel bearings, to a new external temp sender and display for the dash, to all of the regular required maintenance. All performed by a top notch german auto shop in the Bay Area. All parts used were OE MB. I've added up the receipts he provided, and he dropped almost 17 grand into the car in the 6 years he owned it.
We were able to come to an agreement on price, and I ended up driving it back to Seattle that afternoon. The car didn't skip a beat on the way back. Pretty impressive for a 23 year old car, regardless of how much love its gotten!
Here it is at the first fuel up: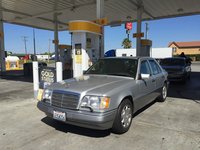 And later on down the road at a rest stop just outside of Weed, CA: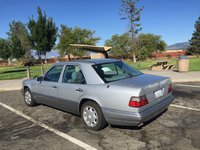 So... Like i said, its not perfect... so what's currently on the list?
-Sagging headliner in the rear. Currently looking for a good shop in the Seattle area to get this repaired, as I looked last night and a new unit from MB is ~1600!
- Drivers headrest non functional. I can hear the motor, but nothing moves. I assume the 'transmission' is broken. I've ordered a new part and its on its way
- Harnesses. Miraculously both the upper and lower harnesses have survived this long. I've already ordered a new upper, but was sad to see that the lower is NLA. I guess I'll need to do some searching on refurbing it myself. I currently have some intermittent odd oil pressure gauge issues (needle jumping erratically occasionally) which I think might have something to do with the harness. Either that or the sender.
-Right rear passenger lower door trim. There was some damage to the right rear passenger door at some point, and they were able to re-use the trim, but the chrome strip is obviously mangled. Not obvious at first glance, but it see it all the time now, and its annoying
- Suspension. I think I'm going to go through the whole thing and replace everything... links, bushings... struts.. everything. It's not bad right now, but it is a bit 'floaty'. I'd like more of a firmer ride, especially with the speeds this thing can achieve on the freeway! I haven't done a lot of digging on the subject yet, but it seems like the 'Sportline' suspension is an option for firmer rates and damping. I'm a little confused though, as I have only seen this option on E320's. Is there a 'Sportline' option for the E420s? Alternatively, are the E500 parts that can be swapped in?
- Rear diff. Its seeping. I'll probably pull the whole unit and replace all seals when I decide its time to do the suspension.
I'm sure there is more, but thats the list I have for now. This will be a slow slow project, but I plan on using this space to document the journey.
Anyways, I'm happy to be here. I am absolutely in love with how solid this car is. No creaks, squeaks or rattles, even over our crappy Seattle roadways. Amazing for 23 years of use!
Last edited: