Hi all, I've been meaning to provide a writeup on how to restore or re-colour your own w124 leather trim at home. This DIY will cover step by step how to do that and as you will see it's not a difficult job – in fact it's quite enjoyable! Like most restoration tasks patience is key here, if you are not a patient person then perhaps this is not the DIY for you. The more time spent on prep the better the end result will be
I will try to keep this step by step and to the point. Leather Dye products themselves
have been discussed in this thread
before. When I acquired my 320CE with parchment interior I sent a sample of the old knackered armrest leather off to be professionally colour and sheen matched. Thus I have a one part Dye sealer product to apply and I will also be using adhesion promoters for the dye and sealers to get the best possible results.
Here is what you need: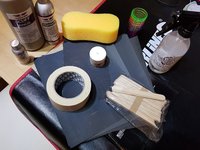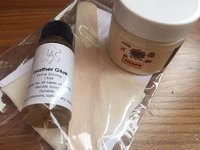 ·

Small plastic cups – I used disposable plastic shot glasses
Sponge - a regular car washing sponge is ideal

·

Small wooden sticks, for mixing and applying the leather filler

·

Leather Glue and repair wadding (If there are tear holes through the leather)

·

Leather Filler – ideally choose one which is the same colour of your end Dye (Black leather filler on a steering wheel for example)

·

Several sheets of quality sand paper in 400, 800 + 1200 Grits.

·

Masking Tape

·

Leather cleaner – a non greasy formula. (Dodo Juice supernatural leather cleaner is my recommendation)

·

A Quality leather Dye – I would strongly advise to have it colour matched for you before hand or buying the correct MB dye colour code based on your VIN. I have used the ebay "tint your own" leather dye kits before and they were very difficult to get the tone just right.... best avoided.
The cadaver for this DIY will be a used flip top armrest I bought from USA: There is some leather wear and I want to do a full colour change to Parchment to match my 320CE interior.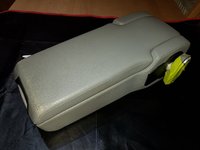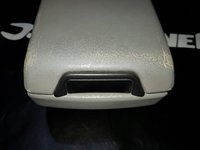 So lets get started!
Step 1:
Disassemble whatever trim you are working on. In this case I removed all screws and pried out the inner clamshell of this flip armrest. This could equally mean removing car seat(s), or the steering wheel and airbag for example.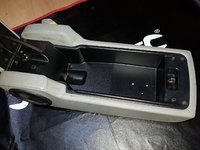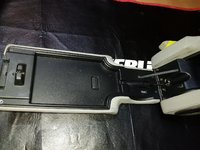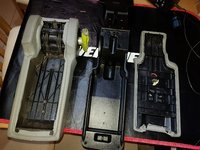 Step 2:
Thoroughly clean the leather using a stiff brush to get right into all of the stitched hems etc. Using a bucket of hot clean water & microfiber cloth, wipe the cleaner off and pat dry the leather. Allow to fully dry.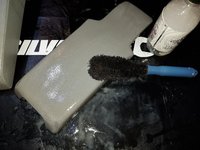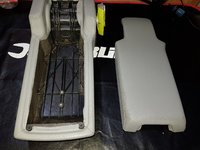 Step 3:
Assess the leather for area(s) which will require filler to be applied: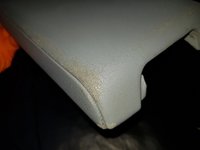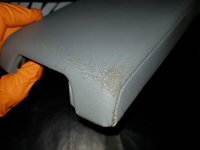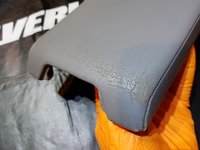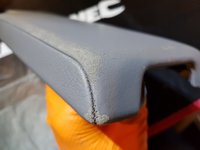 In this case there is a stitched hem alongside where filler is required. So I taped up and bridged this gap with masking tape: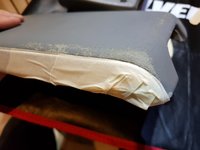 If you don't do this and get leather filler into the seam it will be almost impossible to remove it again without further causing damage to the leather. Better to spend a little time first masking off to save yourself sanding time trust me.
Use a wooden spreader and apply the filler, pressing it into the leather: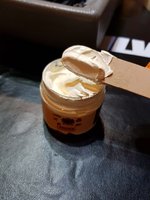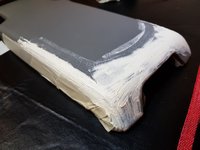 It will take several applications normally to get a quality finish to it's best to apply only in thin, even layers. Try to avoid hard edges, use your fingers to soften and feather the filler edges out. Again – leather filler is quite soft and difficult to sand so
less is more when applying the filler
. Remove the masking tape before the filler begins to cure: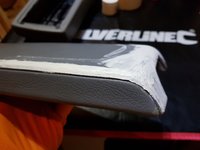 Now it must rest overnight for the leather filler to fully cure.
DIY will resume tomorrow
Last edited: