Last night I did a rear bumper swap between a 1992 model 500E, and my 1994 E500. This was because my bumper was very slightly bowed out at the bottom, probably because it was winched up on a tow truck and the cable distorted the bumper outward.
The car was like this when I bought it 10.5 years ago and is the most obvious exterior flaw on the car.
Anyhoo....a couple of body shops told me that this couldn't really be fixed, and to just obtain a new bumper cover. So, after 10+ years, I finally had the opportunity to snag one for a good price.
It wasn't bad enough to cause me major angst (nothing was cracked or creased, just deformed a bit) but I always vowed I'd fix it, and finally I was able to! Patience was a virtue in this case.
Anyway, in removing the bumpers from both cars, I noticed a very interesting difference: the 1992 car was lacking the hard foam/plastic corner pieces and dark styrofoam piece that the 1994 car had. You can see the differences in the corner photo taken of the 1992 vs. 1994 bumper ... the 1994 corner piece has a plastic arm with a hook, that hooks into the corner piece and holds it in place when the bumper is installed.
The 1992 bumper innards do not have this arm, and thus no corner piece. As I said, there is also a long black piece of styrofoam that the earlier bumper does not have, that fits directly behind the bumper cover.
So we can chalk this up as another subtle difference between the early and late cars.
I'll provide more detailed photos in the coming days.
Cheers,
Gerry
Both bumpers side by side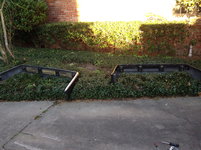 The 1992 car bumper. Notice the corner piece.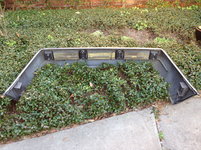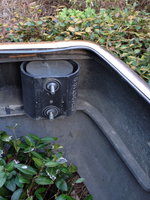 The 1994 car bumper. Notice the different corner piece.