So I have the 1994 E500 Spruce 249 with EVO II wheels and custom interior. I have been out of town and did some poking around and have some basic observations and remedies on order:
APPEARANCE
Exterior
Review of the paint job and have determined that it is a quality job. While it is not my particular choice, it will remain until the other issues are corrected. The roof, bumpers and cladding have been sprayed 040, and the front bumper cover is from a wagon.
Plans is to source bumper for the e500 and restore the fogs to stock. I have purchased the proper front and rear badges, and have not decided I will install a medalion or a gunsight on the hood. I will install the trunk star and orient the E500 per spec. I have purchased a new RS E500 headlamp assembly.
Windows are tinted, tires are relatively new, there are no records of accidents, and I cannot visually find any chassis issues to indicate an accident was part of its history. So things are straght and well cared for.
Interior
The later facelift parchment has been modified to include black accents in the door cards, seat centers, head rests and steering wheel. The burl walnut has been refinished in piano black, and it is a quality job that would rival a popular California wood refinisher. I have removed several pieces and it is not wrapped. The leather work is quite good, soft and supple like the GAHH covers I purchased for my C126. I spent about 3 hours and almost a bottle of aerospace 303 nourishing the leather and vinyl dash, all plastic bits. I had to reorient some switches since they were not installed porperly. The sunshade was removed sadly, and the rear deck was recovered. It was flawlessly executed and if it wasnt for the missing switch you would not know it existed.
All light bulbs have been cleaned and swabbed in dielectric grease, as with the door switches and all light lenses. Sunroof is fully operational, and drains are clear. I cleaned the tracks and applied a smattering of Gleitpaste where required. Gasket is supple and received a good cleaning and Aerospace 303 treatment. Cocoa matts have been ordered, along with a 2phast mirror. Grey lockout door switches have also been ordered. Door check straps are as advertised, doors close like a vault effortlessly and the windows are smoothe and quick. I will be placing the new strut and straps in the armrest. Seats work as expected. Keyless entry ordered and will be installed when received.
MECHANICALS
A heavy service was done including tranny and oil filter services, both harnesses, cabin filters, a/c etc. Tranny shifts nicely and has come alive with a bit of driving. The car did sit for many months over the past year. I also replaced all alloy fuses with brass/copper into a cleaned contact fuse box. Engine bay is generally spotless and I intend to keep it that way. Brakes are new and solid, no codes or idiot lights but all the bulbs work at start up.
I have purchased new spheres and bushings for the rear struts, they do not leak and the boots are in great shape. SLS does not leak, but I bounce like I am on springs alone back there so that indicates accumulator spheres. Front side need new Bump stops but the shocks themselves appear to be working well. While the mount rubber looks to be supple, it is original so I may just change those out when I replace the bump stops.
I did find that the DS drain from the cowl was not draining. Removing the fender liner rendered the poor install of the drain. It was folded under and out of the way so it did not drain. Corrected that, and noticed that the frame drain was also covered with spray undercoating. Once I prise the vulcanized rubber from the exit on the frame, I got a steady stream of water from the plugged drain. All in all about a quart of clear water was in that plugged chassis drain. It did rain here for about 6 days straight so I am not surprised. I did some poking about and found no evidence of rust anywhere under the various undercoatings. Glad I caught it.
So that is all for now. I bought about a grand worth of stuff initially, and look forward to getting all installed once I get it. Car is garaged and will not be driven until the rear suspension is repaired. It is drivable in town, but not wise with the shot accumulators BOING BOING BOING.
The following repairs were done by the PO prior to the sale of the car. Posting for posterity and historical reference.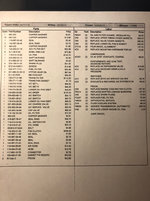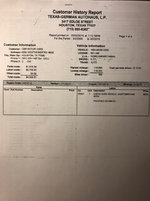 Last edited: